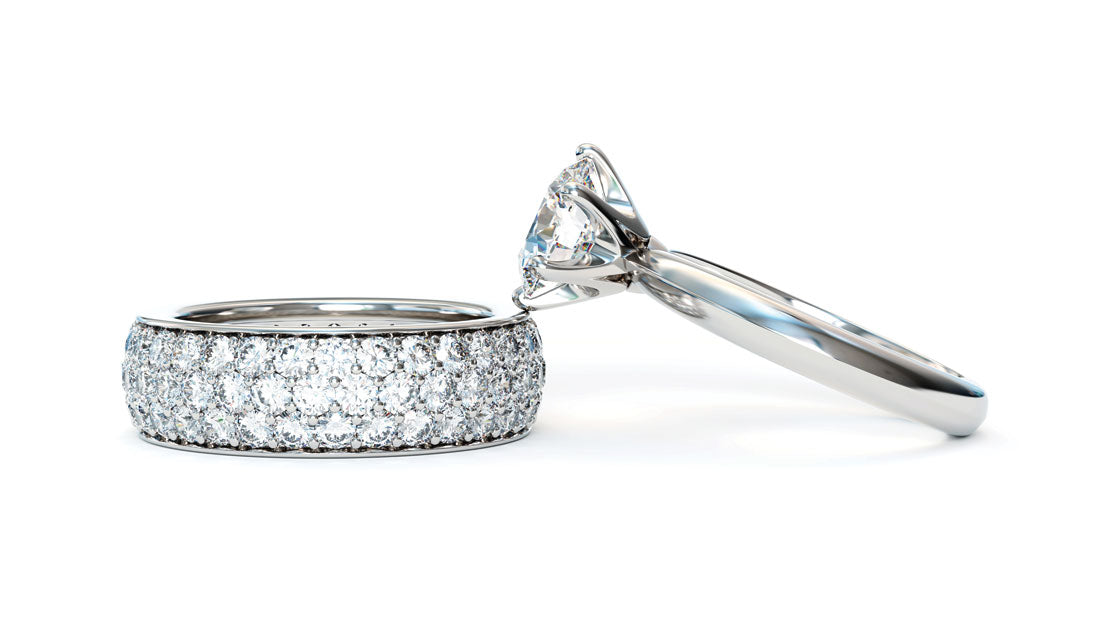 Unique Wedding Bands for Women Who Want To Stand Out
In the world of matrimonial celebrations, the recent surge in demand for women's unique wedding bands has been nothing short of remarkable. Today's brides-to-be are gravitating away from the traditional rings. Unique wedding bands have become the epitome of this sentiment.
Isn't it magical how these bands can weave tales, dreams, and personalities into their designs? Gone are the days of one-size-fits-all. Now, it's all about intricate details and offbeat materials. After all, every modern bride is unique, and her ring should shout out that uniqueness loud and clear, right?
Unique Wedding Bands
Let's look at some of the most popular unique wedding bands:
3/8 Ctw Round Cut Diamond Wedding Band
Have you checked out our
Channel Set Gemstone & Diamond Wedding Band
? It's where timeless elegance meets vibrant charm. Crafted in 14-karat yellow gold, this ring boasts both sparkling diamonds and striking 2.6mm emeralds. Think about five dazzling emeralds paired with 6 radiant diamonds. Hunting for that one-of-a-kind women's wedding ring? This isn't just a ring; it's a declaration of style and love.
1/5 Ctw Round Cut Diamond Wedding Band

Elevate your style with the 1/5 Ctw Round Cut Diamond Wedding Band. Meticulously designed in 14-karat yellow gold, its lustrous milgrain finish sets it apart. Boasting 23 dazzling round-cut diamonds, the craftsmanship is evident in every facet. These diamonds, beautifully set in a mix of the bezel, pave, and prong, is a top choice among women's wedding rings. With a diamond weight of 1/5 ctw, it perfectly balances opulence and elegance. Whether flaunting it solo or pairing it with other jewelry, this ring promises to make a statement.
Round Cut Diamond Halo Wedding Band

A radiant addition to any hand, the 5 Stone Diamond Wedding Band stands as a testament to timeless elegance. Set in lustrous 14-karat white gold, its exquisite design features five distinct circular mounts, each graced with brilliant round-cut diamonds. The central diamond of each mount, weighing 1/6 ctw, is meticulously set and surrounded by a halo of smaller diamonds, creating a dazzling effect. The first mount shines with 12 diamonds, while the subsequent mounts house nine each, summing up to a breathtaking 48 diamonds in total. With an overall diamond weight of 1 ctw, this piece effortlessly blends traditional design with modern charm. For those searching for engagement rings in Buffalo, this wedding band is an impeccable choice.
Half Round Wedding Band With Milgrain

This white-gold engagement ring has a harmonious blend of traditional craftsmanship and contemporary design. The dual design of the 14K Yellow & White 3.5 Mm Half Round Band With Milgrain embodies sophistication. It uses both 14K yellow and white gold and showcases the versatility and keen attention to detail. Adorned with a timeless milgrain finish, the band's 3.5 mm width offers a subtle yet impactful statement. For those on the hunt for personalized elegance, custom jewelers in Buffalo often highlight this exquisite band as a prime example of artistry meeting sentiment.
Round Cut Diamond Wedding Band In 14K White Gold

Presenting a radiant display of shimmer and elegance, the 1/5 Ctw Round Cut Diamond Wedding Band In 14K White Gold is a testament to refined craftsmanship. Epitomizing grace, this band is adorned with a meticulously arranged sequence of 23 round-cut diamonds, mirroring the celestial beauty of a starlit night. The allure of the pave set diamonds is amplified by the luminous sheen of the rhodium-finished 14-karat white gold. With a total diamond weight of 1/5 Ctw, it's more than just an accessory; it's a symbol of timeless love. For those seeking the finest in personalization or adjustments like ring sizing in Buffalo, local custom jewelers in Buffalo often recommend this piece for its impeccable blend of style and sentiment.
Conclusion
Are you looking for unique wedding bands or engagement rings in Buffalo? At Andrews Jewelers, our seasoned designers, with over 40 years of experience, intuitively understand your vision. Beyond just designing, we craft love stories. We'll sit with you one-on-one, ensuring you get that extraordinary, tailor-made engagement or wedding ring. And we're so confident in our craftsmanship that every purchase from Andrews Jewelers comes with the Premier Lifetime Warranty. Because for us, your life's beautiful moments deserve nothing less than perfection.