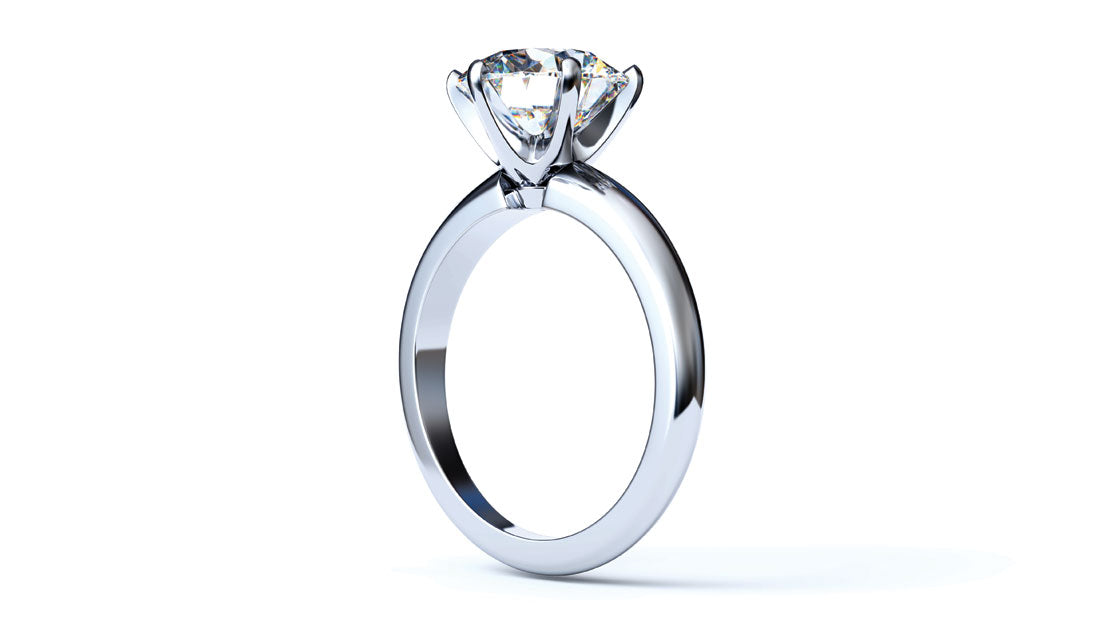 Breath-taking Simple Engagement Rings That She Will Love
In recent years, there's been a notable shift in engagement rings preferences. While dazzling, intricate designs had their time in the spotlight, the allure of simple engagement rings is on a steady rise. These days, a lot of couples prefer these simple styles because they like the modest beauty they provide.

These rings nicely capture the idea that simplicity has a timeless allure. They might be devoid of excessive embellishments, but their beauty lies in the clean lines and the story they silently tell. This growing fondness is a testament to the age-old adage: sometimes, less truly is more. Here are some of the best simple engagement rings.
Best simple engagement rings
Let's look at the best engagement rings that awe you:
Wide Band Engagement Ring – Andrea
The Wide Band Engagement Ring - Andrea is a testament to what classic design represents. Its allure is unmistakable, with a 2CT round center-piece cradled beautifully in 18K yellow gold. The ring's impressive 1.11TW, subtly shimmering with every movement, is the result of expert craftsmanship. It breaks away from the common, inviting attention without clamoring for it. Now, while there's an undeniable charm in
white-gold engagement rings,
this yellow-gold beauty offers a timeless allure that's hard to resist. In a realm where engagement rings often mirror one another, this ring stands as a beacon of classic elegance, always in vogue.
Round Cut Vintage Inspired Engagement Ring – Chereen
The
Round Cut Vintage Inspired Engagement Ring
has a poetic blend of the old and the new. This ring encapsulates the elegance of the past with a design that feels fresh and relevant. Nestled at its heart is a mesmerizing 1CT round head, sparkling and drawing eyes to its majestic beauty. The 14K rose gold setting, a choice that whispers of romantic sunsets and timeless love stories, only elevates its vintage charm. Add to this the intricate details represented by its 0.30TW, and you have a ring that's not just jewelry but a tale of love waiting to be written. It's a type of
women's wedding ring
that brings back memories of old-fashioned love stories while expressing hope for happy recollections in the future.
Oval-Cut Modern Halo Diamond Spiral Engagement Ring – Coralie
Let's dive into the charm of the
Oval Cut Modern Halo Diamond Spiral Engagement Ring
- Coralie. There's something irresistibly enchanting about an oval cut. It's the kind of shape that seamlessly combines tradition with a dash of flair. Now, imagine that oval, a dazzling 1.25CT, encircled by a halo that radiates light at every turn. Set in luxurious 18K rose gold, the ring's 0.23TW adds just the right touch of sparkle, making the piece both delicate and statement-worthy. The spiral setting is the modern twist, wrapping around the finger in an elegant fashion. This ring isn't just another engagement ring; it's an ode to modern love stories, where tradition mixes gracefully with today's bold spirit.
3-Stone Halo Style Engagement Ring


Dive deep into the symbolic beauty of the 3-Stone Halo Style Engagement Ring. This isn't just about the sparkle; it's about the journey. Three radiant diamonds, each embraced by a halo, stand for the cherished moments of your past, the joy of the present, and the promise of a bright future together. It's a narrative, a timeline of love captured in one exquisite piece. For those looking for something extraordinary, this masterpiece could easily be the showstopper among the collections in the best engagement ring stores. After all, love is about memories, moments, and milestones, and this ring celebrates them all in shimmering style.
3/4 Ctw Diamond Engagement Ring

Ladies and gentlemen feast your eyes on a ring that truly captures the essence of love - the 3/4 Ctw Diamond Engagement Ring. With a majestic 1/2 Ct princess cut centerpiece, it's like the North Star guiding a constellation of 26 shimmering round cut diamonds. Set in the sheer elegance of 14-karat white gold, its brilliance is unmatched. The intricate design seems to narrate a tale of romance, commitment, and dreams that two hearts weave together. If you've been exploring women's wedding rings, this one stands out, not just as a piece of jewelry but as a tribute to eternal love.
Conclusion
Are you looking for engagement ring stores?
Need ring sizing in Buffalo
? Maybe you are dreaming of the perfect engagement ring. Our seasoned designers listen, understand, and bring your unique ideas to life, crafting extraordinary rings tailored just for you. Discover the artistry of Andrews Jewelers, where over 40 years of design experience meets your vision.
Dive deep into a one-on-one design journey, ensuring every detail reflects your love story. And our diamonds? They sparkle with unmatched brilliance and are ethically sourced. What's more, with every masterpiece you choose comes our promise - the Premier Lifetime Warranty. With us, you're not just getting jewelry; you're investing in timeless art backed by unwavering trust. Let us celebrate your love story.